Computer Literacy for the St. Kizito Secondary School
Located in Uganda, East Africa
Watch Our Video Presentation Now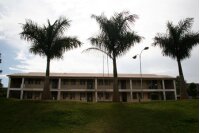 St Kizito secondary school
ST. KIZITO SECONDARY SCHOOL
2/3 of the student body are disadvantaged children:

Former child soldiers from war torn Northern Uganda
AIDS orphans
Impoverished local children

Boarding section provides a home for displaced children
St Kizito recieves NO financial aid from the government.
Funding from Ugandan non-profits and individuals only.
Student Profiles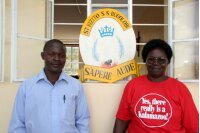 Headmistress and Deputy Headmaster
Former Child Soldier: Sarah spent 6 years in abduction
Student Sarah spent six years in abduction by the Lord's Resistance Army in Northern Uganda. "In the bush I was trained as a soldier and children of my age died. Others were killed by the rebels because they complained of being tired and others who were thirsty were forced to drink their own urine. Now I have to worry no more because of the community I live in which is very considerate people, kind and loving. The school offers me a chance of peace and change."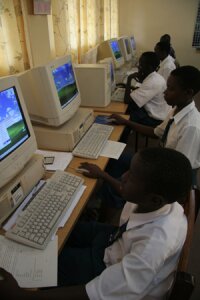 Computer Lesson
AIDS Orphan: Okello
Student Okello is an orphan. "I was left with taking care of the family at a young age and without resources. I joined St. Kizito Secondary School and it kept me strong knowing that I had a better place to stay. It shaped me spiritually, mentally and helped to draw my focus to my future."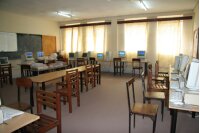 Computer Lab
Poverty: Edward
Edward is a student stricken by poverty and the loss of his father. "St. Kizito has groomed me up into an upright child. I am now able to accept myself the way I am, make appropriate decisions and live life the way it comes."
St. Kizito Computer Literacy Aid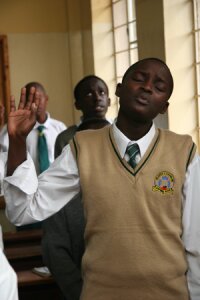 Choir
St. Kizito Computer Literacy Project: 4 Oneworld will fund
a computer teacher
the computer lab
Internet access
For 5 years. That's right, 5 years! 2006-2011. Project Specifications

The teacher has started and the computer lab now has 42 computers!

Learn more about 4 Oneworld's Computer Literacy progress.
"These children are a gift. We can make them the best people we desire in our society. In spite of their past, they can do great things. All they need is acceptance and a chance."
Elizabeth Odyek, Headmistress

Donate Now
Our calendar and updates are here.
St. Kizito Computer Literacy Project
St. Kizito is a high school with the majority of students are AIDS orphans, former child soldiers and the locally impoverished in need of computer literacy.
Project Goal
Provide the computer lab, the IT teacher and Internet from 2006-2010
Status
2006-Present: 4 Oneworld upgraded the lab with 42 computers and has been funding the internet & IT teacher.
2009: St. Kizito received honors for the top computer literacy program in the country of Uganda from UNESCO.
2011: St. Kizito understands the value of computer literacy and has implemented the teacher's salary and internet into their budget